Digitus SFP Module for Gigabit Switch, SFP GbE LC Multimode 850nm - detail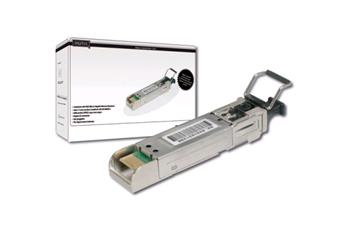 Obrázok je len pre ilustráciu
Popis produktu
DIGITUS 1.25 Gbps SFP Module, Up to 550m, Multimode, LC Duplex Connector 1000Base-SX, 850nm

The Plug and Play Fiber Connection

The DIGITUS mini GBIC (SFP) Transceiver Modules offer highest Quality and Reliability. Wether from Switch to Switch, Converter to Switch, Converter to Converter or any else application: The wide product range of DIGITUS Modules makes possible a flexible usage of the Fiber Technology. The Conformity to the MSA (Multi Source Agreement) Standard ensures a Compatibility to third party Manufacturers.

mini GBIC SFP (Small Form Factor Pluggable) Module
High quality and excellent reliability
1.25 Gbps Maximum Data Rate
Compliant to IEEE 802.3z Gigabit Standard
Class 1 Laser product compliant with EN 60825-1
Easy Plug and Play Installation
MSA (Multi Source Agreement) compliant
Hot pluggable
Connector: 1x LC Duplex
1000Base-SX - For Short Haul
Wavelength: 850nm
Transmission Power: Minimum -8 dBm, Maximum -3 dBm
Sensitivity Receiving Power: Minimum -20 dBm
For a Distance of up to 0.55km
Suitable for 50/125µm and 62.5/125µm Multimode Fiber Cables
Safe fast-locking mechanism
3.3V Power Supply

Package Content
SFP Module

Výrobek je dodáván s manuálem pouze v anglickém jazyce.